South Bend, Indiana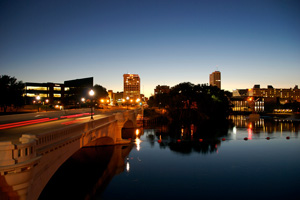 ICSP-11 will be held September 12-16, 2011, in South Bend, Indiana, USA, at the Century Center Convention Center. Located a short 90 miles east of Chicago, and 20 miles east of Lake Michigan, South Bend is rich in culture, heritage, history and fun. For a glimpse of that history, ICSP-11 will offer a tour of the famous Studebaker National Museum that houses a large collection of wagons and automobiles from the 150 year production history of the Studebaker company.
The South Bend area is home to numerous local businesses and serves as regional, national and world headquarters to many well-known corporations, including: AM General, Electronics Incorporated, Crowe Chizek, Honeywell, Bosch, Woodwind & Brasswind, PEI Genesis, Tire Rack and Memorial Health Systems, the largest employer in the city. A popular downtown business is the South Bend Chocolate Company Cafe, and for those with a sweet tooth, ICSP-11 will offer a tour of the factory.
Nearby University of Notre Dame is a large contributor to the local economy and the largest employer in St. Joseph County. Your visit to the campus should include the Snite Museum of Art. Several other institutions of higher learning also contribute greatly to South Bend's culture and economy; Indiana University of South Bend, St. Mary's College, Holy Cross College, and Ivy Tech Community College.
South Bend Links
South Bend / Mishawaka Convention and Visitors Bureau
City of South Bend
Downtown South Bend
South Bend Maps
South Bend Weather
South Bend Regional Airport