Accommodations
Doubletree Hotel (formerly Marriott)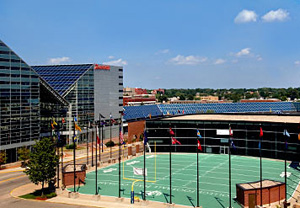 The Doubletree by Hilton Hotel South Bend provides access via an enclosed, climate-controlled skywalk to the Century Center Convention Center. The hotel is directly across the street from the College Football Hall of Fame and is in the heart of the downtown restaurant district. The hotel offers free airport shuttle service upon request from the South Bend Regional Airport and on-site garage parking.
NOTE: Effective August 5, 2011, the hotel is no longer associated with the Marriott name, but will continue normal operations as a Doubletree Hotel and your reservations will be honored. Contact the hotel directly at 1-574-234-2000 should you need to re-confirm or change your current room accommodations.
123 N St Joseph Street
South Bend, Indiana 46601 USA
Phone: 1-574-234-2000
Fax: 1-574-234-2252
Toll-free: 1-800-560-7753
Room rates
Discounted rate of $109.00 (single and double rooms). Reservations must be received on or before 5 p.m., Sunday, July 29, 2011 to receive the discounted rate.

Reservations
On-line: Doubletree by Hilton Hotel South Bend
Phone: call 1-800-228-9290 and mention "ICSP-11 shot peening conference"
Other nearby lodging